My personal Rotimatic Rotimaker review
Me and my husband are both working and we have two kids aged 7 and 3. Our lives are very busy.
We were trying to save time by every means we could. We use dishwater for cleaning dishes daily.
We are health conscious and wanted to eat roti or chapati daily. It took a long time to make them daily.
So, we were dreaming that, one day, someone will invent an electric chapati or roti maker. Finally, we came across rotimatic.
We waited one year to before buying this. Finally, we thought we will buy it when the price was $900.
For the last 4 months, we are using 3-5 times a week. We make around 8 rotis per day.
Below are my personal pros and cons of this instrument.
PROs:
It saves time. We can clean it up whenever we have time during the day and load up with oil, flour and water and keep it ready for whenever we want, we can simply switch it on.
The cleaning is not as time taking as I thought. We just have to open the right side door, detach two parts and clean it quick and put them back.
There is rarely any wastage of flour.
Wives may be happy as they dont have to make any rotis by hand. lol. Happy wife; Happy family.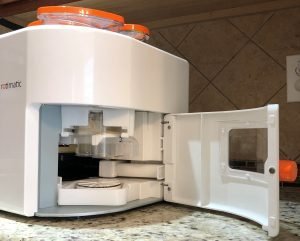 CONs:
It may feel very loud. My kids increase the volume of the TV to be able to hear their TV show. The whole kitchen now becomes very noisy. Imagine if we add microwave or grinder noise to these two noises!!
Sometimes, you get errors and it could be stressful to figure out what is wrong. I got 3-4 times error so far and it was easy to correct most of the time except one time when it took a while to figure out.
The extended warranty could be very costly to by if it gets broken after initial warranty period ends. The company encourages you to buy costly warranty in their facebook group. I did not like this part as it is costly to begin with and I expect it to work for years before it breaks.
If you have small kids, you should be careful as they can put hand into the hot area which is open in the front to allow rotis to come out. Once, my son put a small piece of toy into this area when it was left open for a few minutes after it made rotis before I closed the front door. Next day, the plastic part of the toy got melted when I restarted. However, I could clean it quickly as I was right there.
The look, smell and feel of the rotis made by this machine are far inferior to those made by traditional method.
The front door when it opens catches the rotis made. Since it is very shallow, we have to drag the machine to the edge of the table or kitchen top counter so we can catch the rotis in our kitchen draw. Recently, they have made their own tray to catch the rotis coming out which now I have to buy putting more dollars. May be the new machines come with the new tray or basket/front door.
It needs software update periodically just like a computer program and I was skeptical if those updates can screw up my machine in future. If it does, we would need to spend more money again.
If you have any questions, please comment below.
If you decide to buy, Get $75 off your own Rotimatic by using my referral link here
Total Page Visits: 3138 - Today Page Visits: 1